Audio description: photo in color. A close-up of a young girl with straight blond hair. She has black glasses and huge earphones with microphone, which she holds with her left hand.
Telephone trust lines are called emergency psychological support. Still, there is a service, that provides help not only for those who dial in, but as well for its workers. The project "Helping others is helping yourself" hires psychologists with disabilities, including visual ones, to consult people.
We asked Vera Yuirievna Zakharova, the founder and the leader of the project, and Alena Zirko, a blind psychologist, to tell us about the project.
The project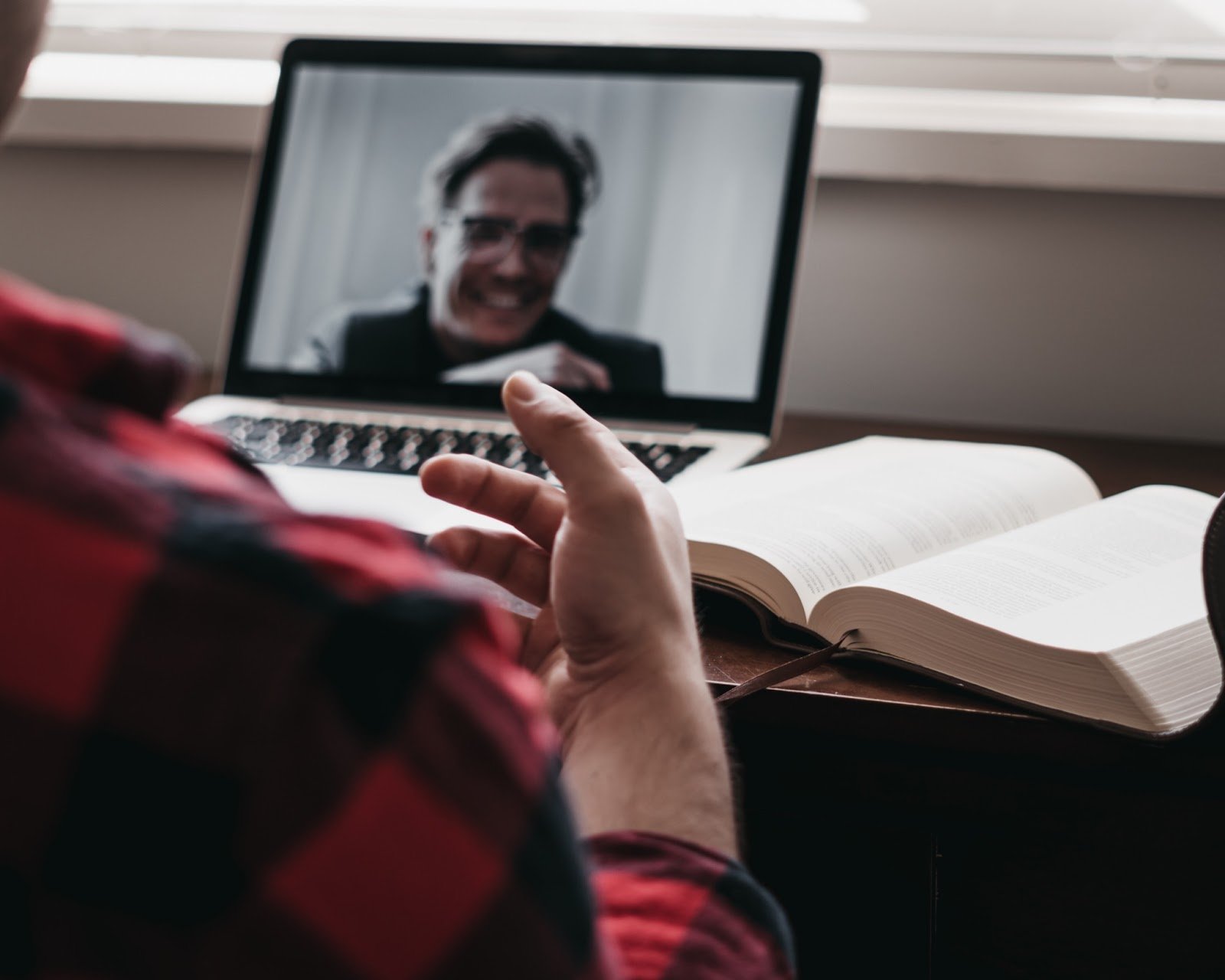 Audio description: photo in color, made from behind the back of a man wearing a black-and-red plaid shirt. There is an open book lying in front of the man on the wooden table, with an open laptop on the left. The laptop screen shows a young man in glasses.
"The work of the service 'Helping others is helping yourself' results in providing support to 2 audiences: one category of people — our external vector — are those whom we consult, those who have found themselves in a difficult life situation. We provide them with emergency psychological assistance in the format of written dialogue or in voice format via Skype or telephone. The other category of people are those specialists, psychologists with disabilities, who have difficulties finding a job in the labor market in general", Vera Yurievna comments.
According to her, the original aim of the service establishment was to find such a format of work organization that would allow psychologists with disabilities (and mainly those with mobility issues) adapt to the general labor market. And it was a real challenge.
"We saw that fitting psychologists with disabilities into the work environment was a complicated process and even if they eventually fit, the heads of the psychological service were not very happy to have such an employee and considered the very fact of giving him or her a job as something heroic", Vera Yurievna says.
According to her, it was hard for the employees with disabilities to adapt to the work environment: their colleagues were not prepared or educated about how to take into account the needs of people with disabilities, create comfortable spaces for them, sometimes meet them.
There were no examples of successful social interactions. Only single cases of successful employment of psychologists with disabilities were recorded, and no one provided consolidated professional adaptation for them.
"We created a service for limited mobility specialists (people in wheelchairs, having long-term health problems after a car accident, individuals with CP and with a sound speech apparatus, with severe genetic diseases leading to muscle atrophy, visually impaired and hearing-impaired ones) to be able to work as counseling psychologists. We thought that our service would become an intermediate platform, where psychologists with disabilities, who do have specialist diplomas, but don't have enough practice, would get their work experience, and later would get employed in other services. However, we realized, that the society was not ready for this", Vera Yurievna adds.
All organizers' efforts aimed at establishing the most comfortable working space and the most convenient virtual office for specialists with disabilities. Besides, the project cherishes the atmosphere of mutual help and support, which allows to consider the peculiarities of the specialists with impairments and quickly resolve all emerging issues at work.
"We are flexible, and we are open to all novelties. We love to experiment in our work and find new ways of addressing work tasks. One thing I need to mention right now: we have limited staff. The service works for several hours a day, although we would be able to work 24/7 if our financial and administrative resources permitted. Our service exists solely because of grants, donations and charity foundations. The project can involve maximum 18-20 people, and in the past year there have been only 7-8 specialists on the hotline providing psychological support. Most of them do this for free or with the minimum wage. Nevertheless, for every psychologist with disability our platform is a powerful tool to enhance professional skills and an example of the implementation of the principle of mutual assistance in the team", Vera Yurievna mentions.
Moreover, she claims that the project gets professional supervision support, which becomes the point of attraction for young specialists to step into profession. Many young people, who came to the project years ago, today have become highly qualified specialists, to some extent, thanks to their participation in the project.
How the helpline works

Audio description: photo in color. A close-up of a tall brown coffee cup, placed on the edge of a wooden table. The background features another wooden table, and a young man in light shirt is sitting at the table. There is an open laptop in front of him.
Alena Zirko, a sightless psychologist, started working in the service "Helping others is helping yourself" while still being a student at the Higher School of Economics. Vera Yurievna met the blind student at one of the University courses and invited her into the project. For Alena it became one of the starting points in her professional life.
"My key responsibility here is receiving the incoming calls. At certain hours I get online and answer telephone or Skype calls. Besides, I participate in supervisory meetings, where we organize conference-calls with colleagues and discuss cases from our practice, which cause doubts and difficulties. Such practices make us stronger specialists, teach us to support and help each other. Also, each of us need to prepare reports on the work done. Sometimes we do this on our own, sometimes — help each other. The report shows the number of calls received and the approximate topics. Of course, our trust line is anonymous, we don't even mention the names of the clients in our reports. No information goes outside of the team", Alena says.
Why people call the trust line
According to Alena, people call the trust line when they have an urgent desire to talk, to discuss situations that they cannot cope with themselves.
"The situations can be different: loss of loved ones, horror, sorrow, despair that a loved one has passed away. There are also calls related to exams, concerns about quarrels with friends or partners, professional self-identification, recent crisis events. Everyone calls with their own problems, and our task is to help the client navigate it: it can be mitigating severe psychological stress, or provide an opportunity to speak out, or direct to other highly specialized institution to get help", Alena explains.
As she says, sometimes it is enough for a person to call the trust line just once to find a solution to the problem, but sometimes it requires many years of work, that specialist from specialized organization will handle.
The work of a sightless psychologist
Alena believes that a blind person can be a successful consulting psychologist.
"A visually impaired person can operate the helpline, and out project is a good start for a beginning psychologist with disability. In my opinion, such a psychologist can as well consult on other helplines, but a lot depends on the managers, teams and material and technical base.", Alena tells.
She claims that the project "Helping others is helping yourself" has agile leadership team, that does everything to turn each consultant's office into a space most adapted for his or her needs and peculiarities. Other services might have difficulties with adaptation of a sightless specialist's workplace: they may not allow to install the software for screen access on computer, or the database with reports will be inaccessible for a person with visual impairments.
"I have little experience of cooperation with other helpline services, but I have never had a need for it. I understand that in case I need to get employed into such a service, it will be challenging — I will have to take the initiative in adapting the workplace and making myself accepted by the team as an employee with disability", she says.
Alena believes that a sightless psychologist has to be ready to potential issues with finding a job. For instance, a candidate may bring a laptop or a NVDA flashcard for an interview and demonstrate the skill of operating a computer via screen access programs. Alena thinks that a sightless psychologist can not only work on a hotline, but as well provide face-to-face consultations, or work with blind children, or lead psychological trainings, or become a university teacher.
"Of course, there might be difficulties in performing work tasks, you have to be ready for it. You will need to try different approaches to your professional realization and have a wide spectrum of self-identification. You will have to look for the ways to adapt yourself to the workflow, become part of the team, find like-minded people — those, who will accept you the way you are, and support you", Alena adds.
In her opinion, the professional success of a psychologist doesn't depend at all on whether a specialist can see or cannot.
"If a sightless employee is interested in his work, if he loves it, constantly develops in the chosen professional sphere, raising the level of his qualification, he may become more successful and demanded expert than his sighted colleagues", Alena shares.
To young people with visual impairments, who just consider the psychology specialty, Alena recommends listening to themselves and choosing the job they want to do.
"While graduating from school, I considered the direction for continuing studies and decided if I wanted to be a musician, a translator of foreign languages or a psychologist. I was worried that I would not be able to find a job in the chosen specialty, and you shouldn't think like that. Of course, you have to be aware, that finding a job for a sightless specialist might not be that easy, but you need to try to develop your professional skills, understand your professional strengths and weaknesses and adjust them. While studying in the university, it would be best to try to get not only theoretical knowledge, but practical experience too. On one hand, you need to attend classes, prepare well for them, build a solid theoretical base, on the other — find an opportunity to practice your chosen specialty. As a volunteer, perhaps. And if you learn to balance between studies and practice so that by the 5th year you own both theoretical base and practical experience, you shouldn't be afraid of the process of finding employment and be sure you will definitely get an interesting job", she tells.