Audio description: a colored photo. Close up. A person is reading a book in binding spine, fingertips touching the text printed in Braille.
Among other challenges, sightless musicians are often faced with shortage of music sheets in Braille. To solve this problem, Russian State Library For The Blind is creating a digital music sheet archive. The project was launched in 2016 within the framework of the Accessible Environment national program. The library specialists are not just digitizing music sheets, but taking orders on translating music score printed in flat script into raised dots.
Larisa Ovtsynova, Special View portal correspondent, asks Galina Zinevich, an employee of the music score department of the State Library For The Blind, to elaborate on the project and the technology of digitizing music sheets.
Let's begin with broad questions. Why is it so important for sightless musicians to study the printed score of a music piece? It is well known that they have excellent memory and ear for music. Moreover, sightless musicians cannot play by note in the regular sense of the term.
Yes, well-trained musicians can learn a piece by heart just by listening to it. However, in this case, their perception of the piece will largely depend on the way it was interpreted by the person who played it before them. Every musician has his or her own vision, manner and intended audience. It is only through reading of a music score that one may study the piece in a professional way, form one's own opinion, immerse into the thoughts and feelings expressed in the work. Plus, reading the sheets increases the exactness of performance and poses no limitations in the way of length and complexity of the piece one wishes to learn.
How can sightless people read music sheets?
At the moment, it is possible only using Braille system. One may read either a printed Braille text or the text shown on a Braille display.
Does Braille translation of music score differ much from flat script music sheets?
The difference is fundamental. Braille system transcription has no staff, or accidentals. Absolutely all symbols are arranged one by one in a line, like any verbal text. All accidentals are placed either before the note or after it.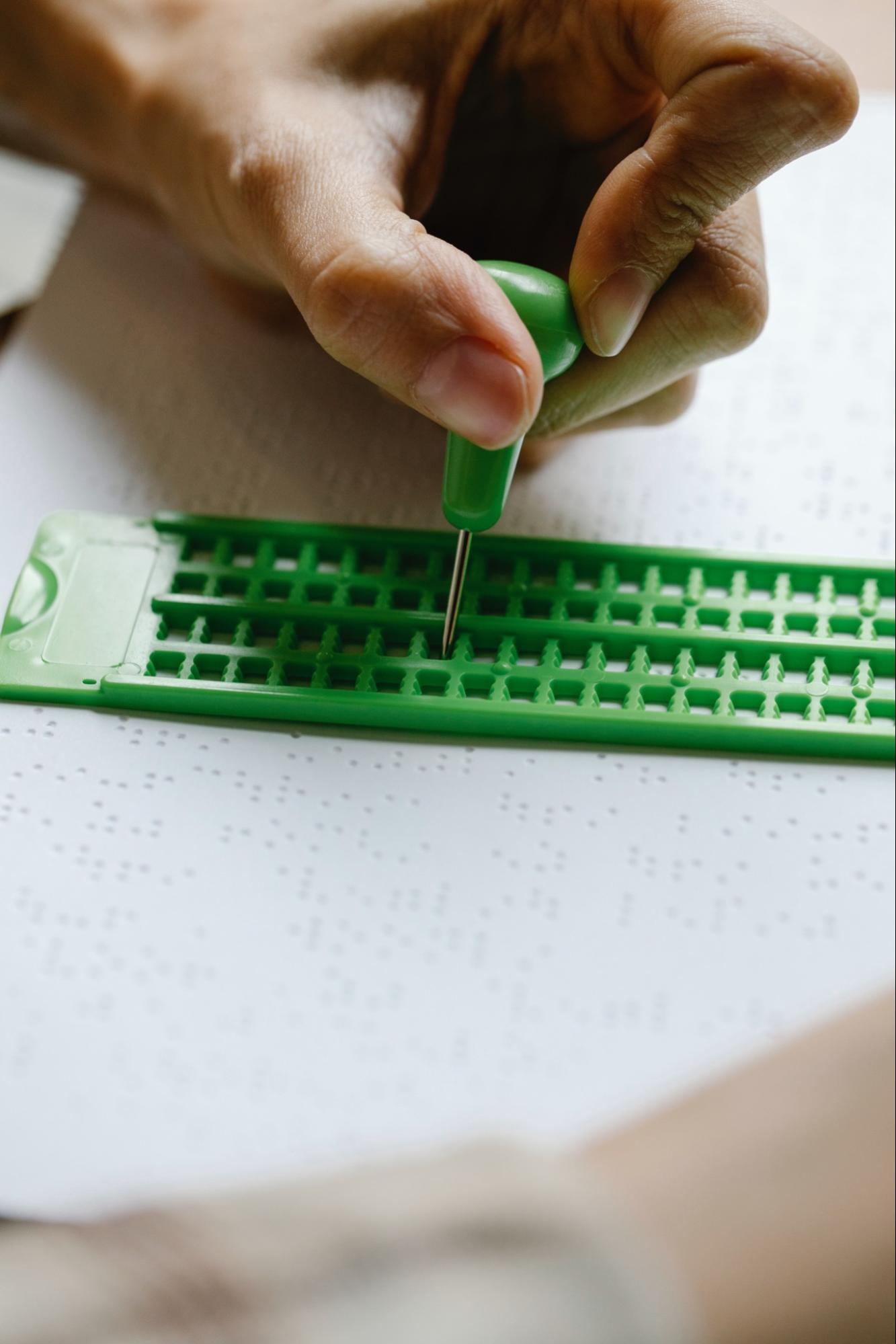 Audio description: a colored photo. Close up. A person is writing in Braille using a special writing tool. It is a rectangular green plate with rows of apertures, and a sharp needle-like stylus.
Please tell us about the history of publishing music sheets in Braille in our country.
In Russia, mass publishing of music sheets in Braille began after The Great Patriotic War. However, Russian State Library for the Blind archives have a unique collection of music sheets copied by hand in 1920s and 1930s.
In post-war years, Braille music sheets were produced by Uchpedgiz publishing house, and from 1964, by Prosveshcheniye publishing house. In 1992, Braille editorial group withdrew from Prosveshcheniye to become an independent publishing house entitled MIPO Repro which specialized in publishing educational materials for the sightless. Music sheets in Braille formed but a small part of its total output, and in recent years it hasn't published a single new edition of music score.
IPTK Logosvos issues a few titles of music sheets every year. Chteniye, a St. Petersburg publishing house, produces about two or three music sheets editions in raised dots script a year, and also four issues of almanacs To An Amateur Musician and In The World Of Music. In 1990s, printing of new music sheets collections practically ceased.
However, even 1970s saw an obvious shortage of Braille music sheets issued by specialized publishing houses. This was the period when the library began translating flat script score editions into Braille system. The department was also getting orders for pieces that had never been published in Braille before.
This work was carried out by two employees, a sightless musician expert at transcribing music score into Braille, and a sighted reader with music education.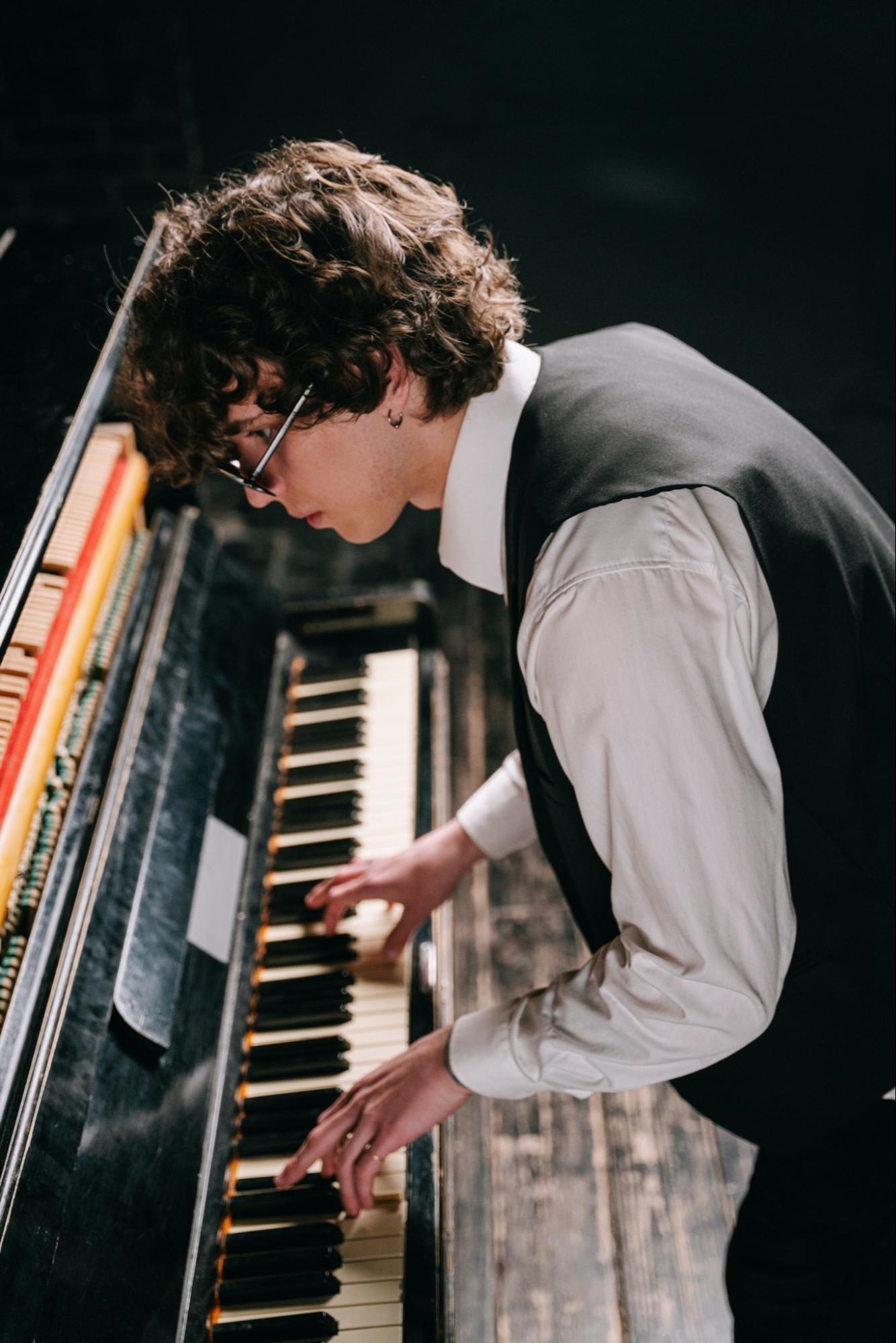 Audio description: a colored photo. A young man in dark glasses is playing the piano. He is wearing a white shirt, black trousers and a black waistcoat. The pianist is standing in front of the instrument, leaning over it; his hands are lying on the keys.
So what exactly is a digital music score library and how do you create it?
Music sheets that have never been published in Braille cannot be added to it. All major libraries are now in the process of digitizing their collections. In our case, it goes like this.
Raised dots script text is scanned using a special Braille scanner. After that, the text is uploaded into a computer, and thanks to certain software these files can now be edited and imposed into page to make an end product. This is the digital version of a certain piece, compilation or manual, and so it is stored in our database. Such files are available to any user at Russian State Library for the Blind website, see E-catalogue section.
At the moment, a sightless musician can access it from any part of the globe. The library also stores digitized title pages of flat script editions with publisher's imprint and table of contents. Flat script pages enable sighted teachers, librarians and parents to check the lists of music pieces and their particulars as to date and place of publication.
The digital catalog is being created by our sightless colleagues. The library provided them with specially equipped workplaces. Their computers have screen reader programs with speech synthesizer and Braille displays. As for hardware, we have Braille scanners and printers. All this enables a sightless expert to work with digital resources.
How can a sightless musician make use of a score stored in a digital catalog?
An accessible way to reproduce music score from digital database is either showing it on a Braille display, or printing it out using a special Braille printer. In both cases, you will need special software. Braille displays are now compatible both with PCs and smart phones.
And what if a sightless musician needs a piece that has never been published in raised dots script?
In this case there is not much we can do, but still one solution exists. Our library is taking orders for translating flat script music score into raised dots script. At the moment, only one employee is working on it. Using a special program, he transcribes the notes in digital form. Then a sightless musician can use the score by printing it out or reading it on a Braille display.
The process of translating a flat script music text into Braille is not easy and takes quite a lot of time. The symbols are tapped in one by one following all the rules of transcribing notes in Braille. While translating a piece, one should take into account the peculiarities of the instrument the work was composed for, the level of the musician who is going to recite it (a teacher or a concert performer), and specific requests of the performer, if any. The speed of the process depends on such parameters as the structure of the piece, the period of its composition and the style of the author, as well as target audience of the translation. Translating one page of flat script score into Braille will take approximately 60 minutes.
What kind of music sheets form the digital score catalog?
The digital library of music sheets published in raised dots script includes anthologies of pieces for studying in children's musical schools, compilations of music sheets for middle-level musical colleges, concert repertoire for various musical instruments, such as pianoforte, button accordion, guitar, balalaika and so forth. There are also editions dedicated to the theory of music, namely solfeggio and harmony. A large portion of music sheets comprise vocal pieces for different voice types, intended for singing solo or by a choir.
The forming of the digital score catalog is still in progress. Its creation is one more step towards the accessibility of today's digital world for the sightless.