Audio description: a colored photo. Close up. Two Labrador retrievers, a brown one and a white one, are standing muzzle to muzzle. Both have collars on.
In our country, guide dog training began back in 1945 at The Central Military Dogs School. After completing a special training course, dogs were given to members of the military who had lost their eyesight during The Great Patriotic War.
The dogs were of significant assistance to them. Several years later, All Russia Association of the Blind (ARAoB) decided to create a special organization for dog training. Later on, the school got its present title, ARAoB Russian Guide Dog Training School.
Special View visited the school and learned about the peculiarities of guide dog training today.
Training Procedure
The home for Russian Guide Dog Training School is Kupavna, a microdistrict in Balashikha, uptown Moscow. It accommodates an administrative building, a hotel for the students, box stalls and open-air cages, and a mockup city with city infrastructure elements and obstacles, also maintenance buildings and, of course, the monument to guide dogs. Black granite pedestal supports bronze figures of a Labrador retriever in a work harness and an Alsatian with collar and lead on. These breeds produce the majority of sightless persons' companions.
Artyom Astanin, director general of Russian Guide Dog Training School, says: "Today, dogs from four breeds are trained at our school. They are Labrador retrievers, golden retrievers, Alsatians and East European Shepherds. Up to 70-75% of the dogs who have completed the course are Labrador retrievers; this breed is well-known for its friendliness and eagerness to help people. The school has a breeding kennel, where our specialists both breed the dogs and purchase new pups from fanciers to ensure genetic diversity of the progeny and to include the new dogs in training.
During the course, some of the dogs may be cast out. For instance, Labrador retrievers are gun dogs, their prey drive is quite pronounced. If our instructors notice that this instinct is too highly developed, they cast the animal out and transfer it to special services (this was the case for Watson, the fawn Labrador retriever, who was transferred to the customs service with the Government of Tajikistan) or given as a pet to a proper family.
However, such features of a dog's character as the desire to be by a person's side and help the owner are encouraged, developed and used to the full by the instructors in course of training".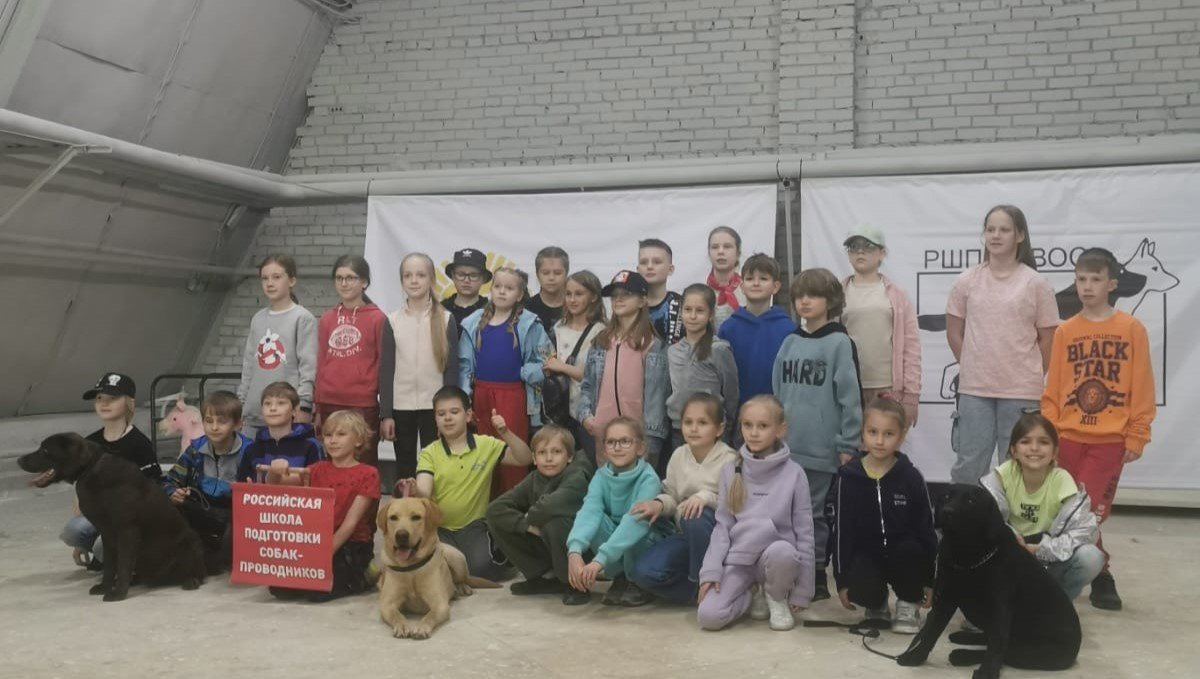 Audio description: a colored photo. Children and teenagers are grouped in front of a wall with ARAoB Russian Guide Dog Training School banners. In the front row, three Labrador retrievers are sitting for the photo together with the kids, and a boy is holding a small red sign with the school's name on it.
Pups and dogs that are undergoing the training course live within school premises, in open-air cages with box stalls. They spend about 8 to 10 months in the kennel zone, in charge of carers. The carers' goal is to ensure the dogs' socialization and help them learn the basic obedience skills. The pups are kept in open-air cages, that is why it is essential to take them out into the big world. The carers make short trips to the city with the dogs to help them get used to traffic, crowded shops, pets and children. The dogs must not be afraid of or distracted from training and work by the peculiarities of today's world.
Socialized pups are transferred from the kennels to the cages with the working dogs, and there they begin their course with instructors. They undergo the general course of training and learn the skills of accompanying a sightless person along the route, defining and negotiating obstacles. On average, this stage lasts up to six months, thus the whole process takes approximately 18 months. Having completed the course, the dogs pass the exam and get ready to meet their sightless masters.
Handing A Guide Dog Over
"Today, more than 60 guide dogs graduate from the school every year. Sightless persons from different regions of Russia arrive here in ten subsequent groups, as per the plan. The number of participants in each group may vary depending on the number of dogs that have passed the exam and on the readiness of people with disabilities to come here and claim the dogs," says Mr. Astanin.
Sightless people stay at the school for two weeks. During this period they learn how to take care of the dog and find their way about in the city with the help of their new companion.
First of all, the coaches test the newcomers' skills in spacial orientation and moving about unassisted. Artyom Abramov is the school's sightless educator; he completed a professional course with the ARAoB Rehabilitation Center for the Blind in Biysk. He trains the students to use a white cane and shows them around the school.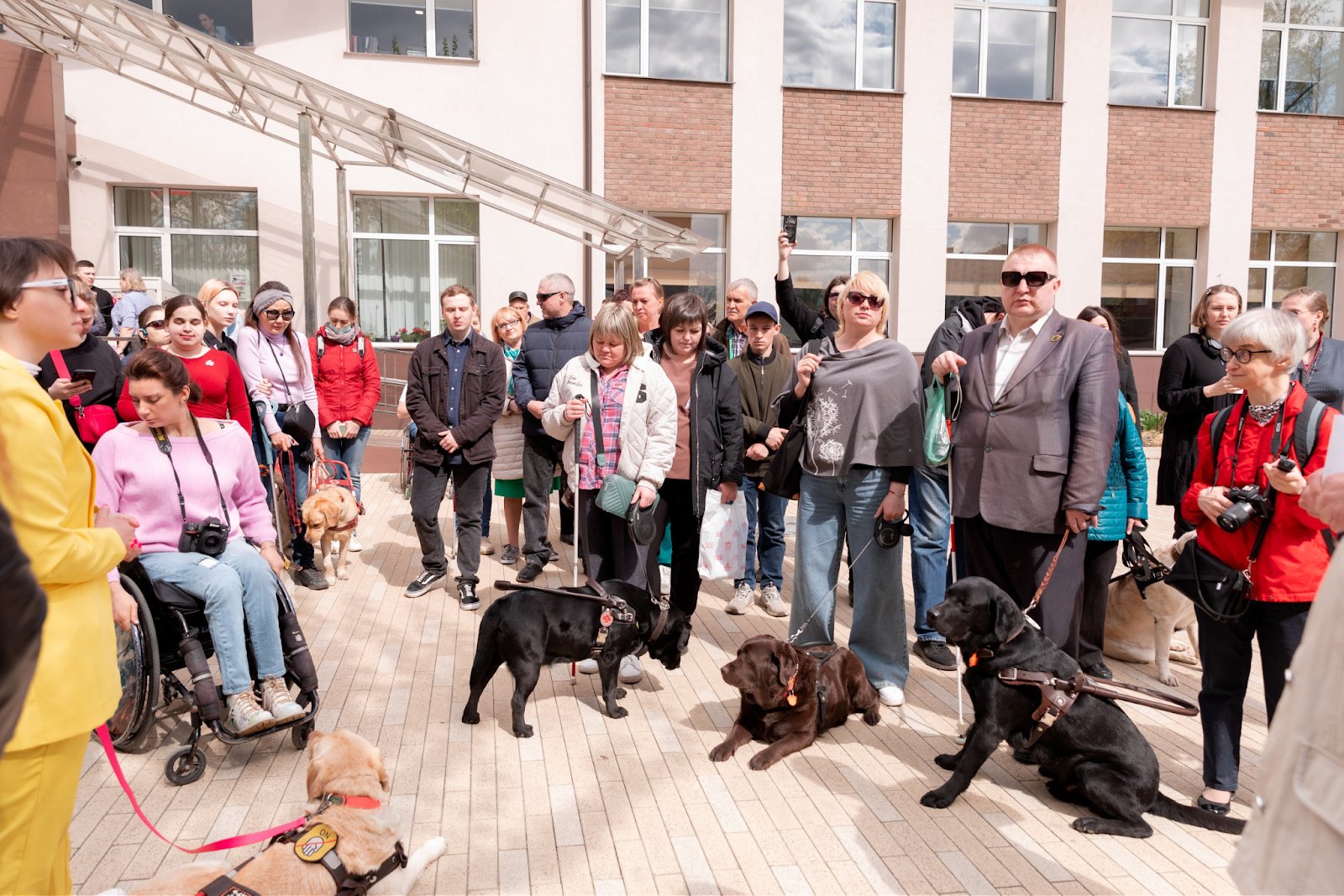 Audio description: a colored photo. A group of people in jackets and warm sweaters is standing by the doors of a brick building. Some men and women are wearing dark glasses and holding white canes. Guide dogs are accompanying them.
After that, each student goes on working individually with the instructor who was training the dog to be handed over to this particular recipient. Under the instructor's guidance, the sightless person learns to give the dog general obedience commands and work with the dog on the route. The school has a mockup city within its premises, with different types of obstacles and small architectural elements which imitate the objects of the city environment (facades of buildings, platforms, electric train vans, crossings and so on). Here the students can practice wayfinding with the help of the guide dog in their spare time.
Moreover, there are group lectures given by vets, instructors and educators on how to take care of the dog and correct its behavior. A lawyer informs the students on the rights of persons using guide dogs to move about.
"To make the students' stay at our school even more memorable, we organize short trips for them. In days when they don't have classes, we take them out to Moscow museums adapted for visually impaired visitors. We've been to A.S. Pushkin State Museum of Fine Arts, Russian Impressionism Museum, Moskvarium, Museum of Cosmonautics, and Jewish Museum and Tolerance Center a few times. Russian Ministry of Culture is doing a colossal work to ensure the accessibility of its exhibitions, this is what you should see and feel for yourself," Artyom Astanin continues.
Classes for sightless persons with the guide dogs take place at the school premises and at the village. If necessary, they make field trips together with the instructors, including practice sessions in Moscow subway.
"One of our students was concerned that the dog would not be able to board an electric train from a low-lying platform. So, together with the instructor, they went to a train station with a low-lying platform, waited for the train and made sure that the dog had no problems entering it. Thus the concerns of the student were successfully eliminated," Artyom Astanin shares.
Sightless people, who come here to get a guide dog, live at the school's hotel. As soon as the student is ready to live with the dog full-time, it is transferred from the cage to the person's hotel room. Living together helps them form their relationship, learn to take care of and understand one another.
"My dog was transferred to my room, perhaps, on the second day of my stay at the school. Tyson is my second guide dog, so I knew how to take care of it and work with it. In these two weeks we were getting used to each other. We had our difficulties, but our instructor always helped us solve the problems," says Ivan from Arzamas, the owner of Tyson the Labrador retriever.
After two weeks of living at the school, sightless persons take the exam on wayfinding with the help of a guide dog. If they pass it successfully, the school gives them the dogs for use, together with the equipment package, the guide dog's passport which proves its right to accompany its master to all public places, and the contract of free use.
"A guide dog is not given to a sightless person as property, but transferred for free use. The ownership rights rest with the school. If we get complaints that a guide dog is not being properly taken care of, we have the right to claim it back. This is a rare case, but still it happens," Artyom Astanin explains.
After Getting Back Home
After a sightless person gets back home together with the guide dog, the real mutual adaptation begins. The dog finds itself in totally unfamiliar conditions. Now it doesn't live in an open-air cage, but in a flat or a house, there are new people around it, its daily routine and even food changes a lot. A sightless person must be prepared for it and show patience, resilience and understanding. After the dog gets accustomed to the new conditions, it will get back to work and begin helping its master dutifully and selflessly.
"When Ace came into my life, it changed for the better. Thanks to him I became more independent. Now I easily solve my problems with moving around, and I take long walks. I'm grateful to the school which prepared such a wonderful dog!" says Natalya from Moscow region, the owner of Ace the Labrador retriever.
The school's instructors stay in contact with the owners of the dogs they trained. They are always ready to answer questions and help in solving the problems which occur while working with a guide dog.
"To keep an eye on our graduates and see the development of the relationship between the sightless persons and their companions, we hold My Master and Me annual contest. This year's contest will be our 19th. Within its framework, sightless people and their guide dogs demonstrate their wayfinding skills on the route, show the general dog training course commands and the results of their work and friendship. This is fascinating: guide dogs together with their masters do magic tricks, dance, sing, do sports and create things," says Mr. Astanin.
The school sees one more way to control its graduates in establishing new guide dog owners clubs and supporting the existing ones. Before 2006, the process of training and providing guide dogs to sightless people was totally controlled by All Russia Association of the Blind. ARAoB had a complete system of monitoring the health and living conditions of the dogs assigned to new owners. The local ARAoB branches informed potential guide dog owners, found out how and where they were going to keep their dogs. Later, the government took the task of preparing the dogs and providing sightless people with them upon itself, so the well-organized system stopped functioning.
"The system ARAoB used to have ceased to exist. This year we began creating a curator program for guide dog owners. Within its framework, new guide dog owners clubs will be established at regional ARAoB branches, and those that exist will go on functioning. As of today, such clubs exist in 18 regions of Russia. They were established thanks to the desire of sightless guide dog owners to live a full life and take a hand in the creation of inclusive environment. Given the new conditions of our social life and with the societies of sightless people functioning, such guide dog owners clubs should become major tools of our curator program. Club activists are working in regions where potential guide dog owners live, they organize lessons on guide dog behavior correction, and our specialists come to such meetings. This is highly important, because sightless people do work with guide dogs non-stop, and oftentimes they need assistance from specialists in this area. Our instructors go to different regions of the country to hold such lessons. This year, we plan trips to St. Petersburg, Kazan, Amur Region and Khabarovsk Territory. Last year we were in Novosibirsk, Bashkiria, Yaroslavl, Kemerovo Region and Rostov-on-Don," Artyom Astanin continues.
Starting in October 2023, the school plans to train the specialists who are going to work within the framework of this curator program.
How Can One Get a Guide Dog?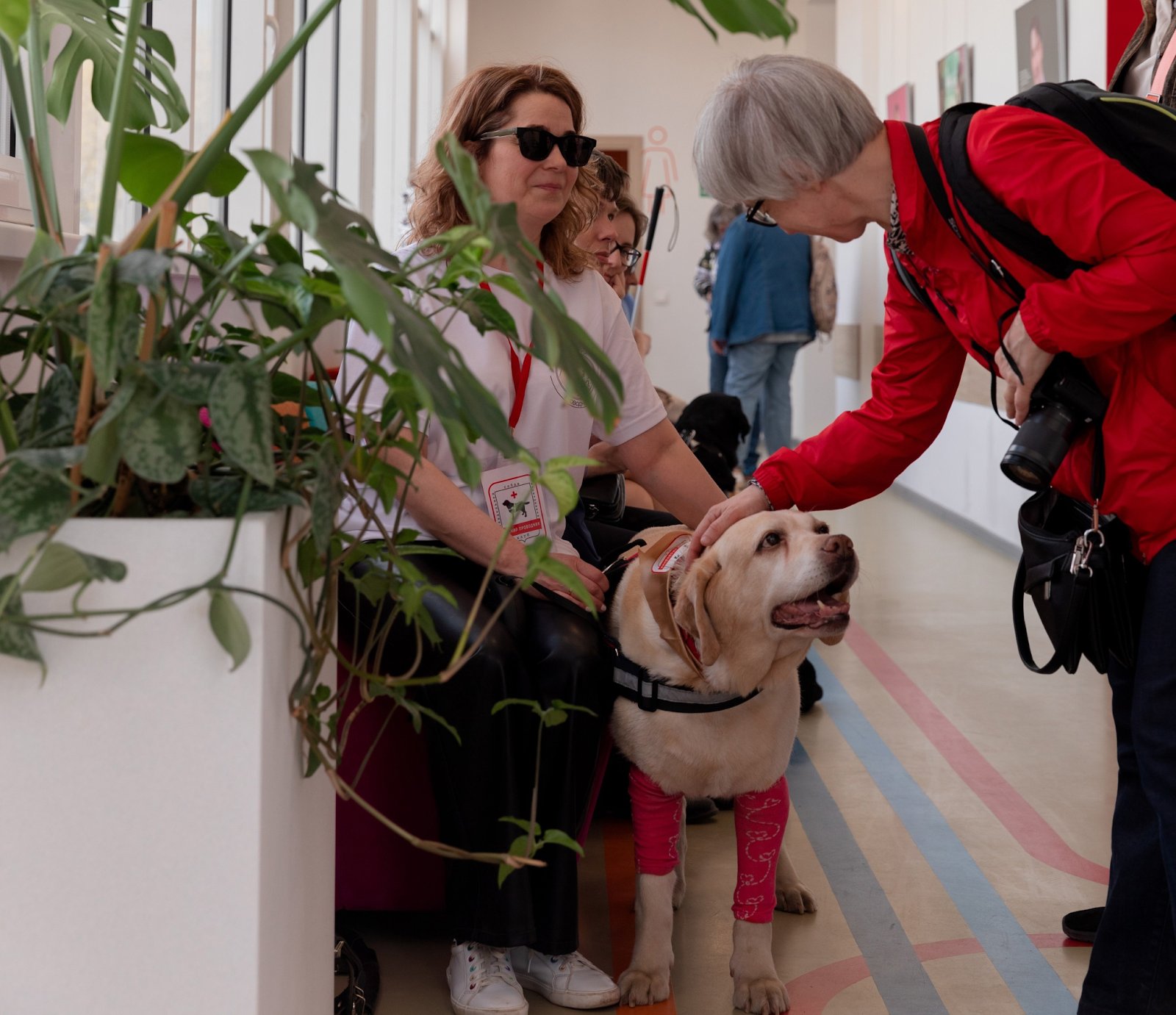 Audio description: a colored photo. Several women are sitting on a bench in a spacious brightly lit corridor. Some are wearing glasses. Labrador retrievers are standing beside their owners. There is also a tall rectangular flowerpot with green plants in the corridor.
ARAoB Russian Guide Dog Training School gives dogs to visually disabled Russian citizens who have the record in their individual rehabilitation program that they require a guide dog as a technical means for rehabilitation. Russian Social Insurance Fund is in charge of guide dog provision in all regions of the country except Moscow. Sightless capital citizens may get a guide dog through Department of Labor and Social Protection of Moscow Population.
In case a visually disabled person has the necessary record in their individual rehab program, they should file a request for a guide dog and a set of equipment through Russian Social Insurance Fund, a multifunctional center or via government services website. Together with the request, the sightless applicant also should file a filled-in questionnaire describing their physical condition and way of life.
"This questionnaire is essential for the school. We need to know what kind of a person is going to come to us, what kind of dog should suit them, taking into account the animal's character and temperament. In this form, the person is asked to indicate their height, weight, age, the level of social activity, individual preferences on the dog's breed, color and sex," Mr. Astanin explains.
On average, after filing the application, people wait approximately 18 months before they are summoned to the school to get their dog. The school preserves the right to refuse to assign a dog to a person if such a person after the two week's course fails to learn to find their way around with the help of a guide dog.
"A dog is not a magic wand, and it cannot give a person their eyesight or social independence back. A guide dog is a helper to a person who is already independent in terms of everyday tasks. A dog can help them find their way easier, make their trips around the city faster. However, a dog can choose a wrong way, and in such case its owner must understand it as soon as possible and find a solution.
For example, we once received an applicant who, 5 years after losing his eyesight, never got out of his home unaided, and left all the household chores to a social worker. As a result, we got a student who was unable to cross the school's territory on his own, and no guide could help him do it. Of course, he failed at the exam and went back home without a guide dog.
At the moment, we have a student who, during his first stay with us, failed at the exam for the same reasons. The dog wasn't assigned to him then, but afterwards he successfully completed a social rehabilitation course at ARAoB Rehab Center, Biysk branch, and came back to us. He's been at our school for several days, and our instructors note that he has become much better at finding his way around. Now he has a real chance to go back home with a guide dog," Artyom Astanin says.
Completing a social and domestic rehabilitation course is not an obligatory condition for getting a guide dog, but the school recommends taking it anyway.
To find the contacts of ARAoB Russian Guide Dog Training School and read the feedback of sightless people who have been assigned their dogs, visit the school's website.