Audio description: a colored photo. A sunny day on an unpaved race track. A black buggy is entering a sharp turning. It is a smallish reduced-weight sport car. The driver is sitting in it alone. On the door of the car, there is a rectangular azure sticker with a white number 554 on it. Gravel and sand are spraying from under the wheels.
Car racing is one of the extreme sports which give a person an opportunity to feel incredible emotions. The roaring of the engines, the screeching of the wheels and a chance to take another barrier transfix the adrenaline seekers, and they become unable to give up this pleasure of challenging the elements, the trail and their own fears.
Motor sports are now becoming available for visually impaired persons. Special View interviews sightless off-road races participants.
Why Sightless People Need Car Races
Off-road races are divided into two categories: leisure activities (car festivals, car rallies, off-roader expeditions) and motor sports. Perhaps, most impressive of them are sports competitions: trophy raids, auto rallies and various championships. Competitions require the racers' maximum concentration and attention. That is why, for the pilots, motor sport is not simply a hobby, but, in a sense, a vital need.
"Nowadays, motor sport for the sightless does not exist officially. Nevertheless, visually impaired people do have the desire to go in for extreme activities. All my life is connected with cars in one way or another. In the past, health limitations had not allowed me to do motorsports professionally. But after I'd become visually disabled, I realized that nothing could stop me now," says Vladimir Khudyakov, the inspirator for the off-road Way To Dream project and one of the founders of the No Limitations information portal.
It all started in 2020. Vladimir was working in off-roaders promotion. One day he had to drive a vehicle out of the garage for a client. Vladimir had had a respectable previous experience in extreme driving, so he took a risk, got behind the wheel despite his blindness — and he did it. This was when the idea of the Way To Dream project was born, the project that would give sightless people the opportunity to learn to drive an off-roader.
Vladimir believes that visually disabled persons have the same need in adrenaline rush as any other human being. That is why it is important to make motorsports safe and adapted for sightless and visually challenged people.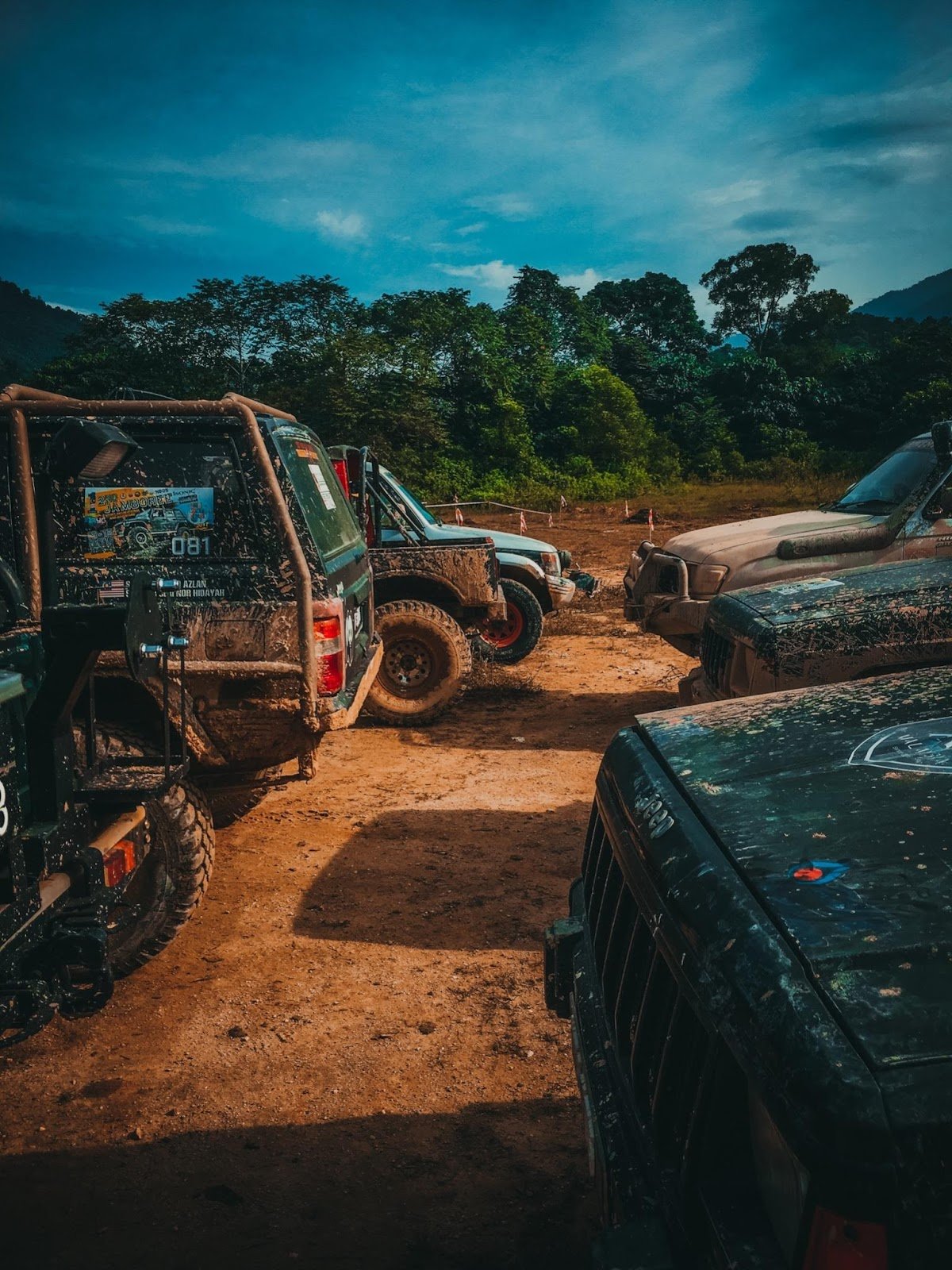 Audio description: a colored photo. A bright summer day. Six off-road racing cars splashed with mud stand in two lines on a dirt track. Behind them, there is a portion of the racing track marked off by red and white flags, and further on, there is a wood.
"Some sightless people dream of being able to get behind the wheel, to speed up along the track, to feel this drive. They need to feel the wave of adrenaline running through their veins. Because of this psychological need, sightless people try to drive a bike or any other vehicle on their own, giving no thought to the fact that they are threatening the lives and health of others. That is why if there were motorsports for the sightless, all those craving for adrenaline could have their need satisfied — on a specially equipped track, in a fenced-off field with no kids or dogs running around, no streetlights or other cars they could otherwise bump in," Vladimir Khudyakov points out.
But in the meantime, while there is no mass motorsports movement, extreme-longing enthusiasts are learning to drive off-roaders in field conditions in their spare time. At the moment, a field 30 km from St. Petersburg is the only place in the country where sightless pilots gather to become off-road racing kings for a while.
For now, special two-seat off-road cars to accommodate both the pilot and the steersperson are a project yet to be accomplished. The guys are practicing on ordinary models, Navigator off-roaders, for instance. A sighted steersperson is standing behind the pilot and directs their movement.
"Before I lost my eyesight, I was fond of motorsports, that is why racing is my cup of tea. I'm still testing everything driveable. I'm telling people about what is manageable and what is dangerous for the blind, and where one can practice driving if one so wishes. Racing blind, people are often forgetting about the safety of those around them, whereas in a field you won't be able to drive too fast. You'll be facing bumps and pits and all the other off-road pleasures.An off-roader is a low-speed car, which makes it safe for a sightless person. And you wouldn't be able to run wild out of the field even if you try very hard," shares Artyom Kiryanov, sightless pilot, co-director of the No Limitations project, inclusive blogger and extreme sports enthusiast.
Artyom explains that off-road racing is interesting for the visually challenged because it gives them the opportunity to leave their comfort zone, feel the independence, the power of the vehicle. Driving a car, going through a field, or a swamp, through the wilderness where a sightless person cannot usually venture is an unusual experience.
"The sightless pilot's priority is to do as the steersperson commands unquestionably. If the steersperson says left, you obey at once. Off-road races teach you to navigate by the sounds, determine the direction where the sound is coming from, help you perfect your reflexes, which is very useful in everyday life. This is team work and the opportunity to learn to communicate with people," Artyom Kiryanov emphasizes.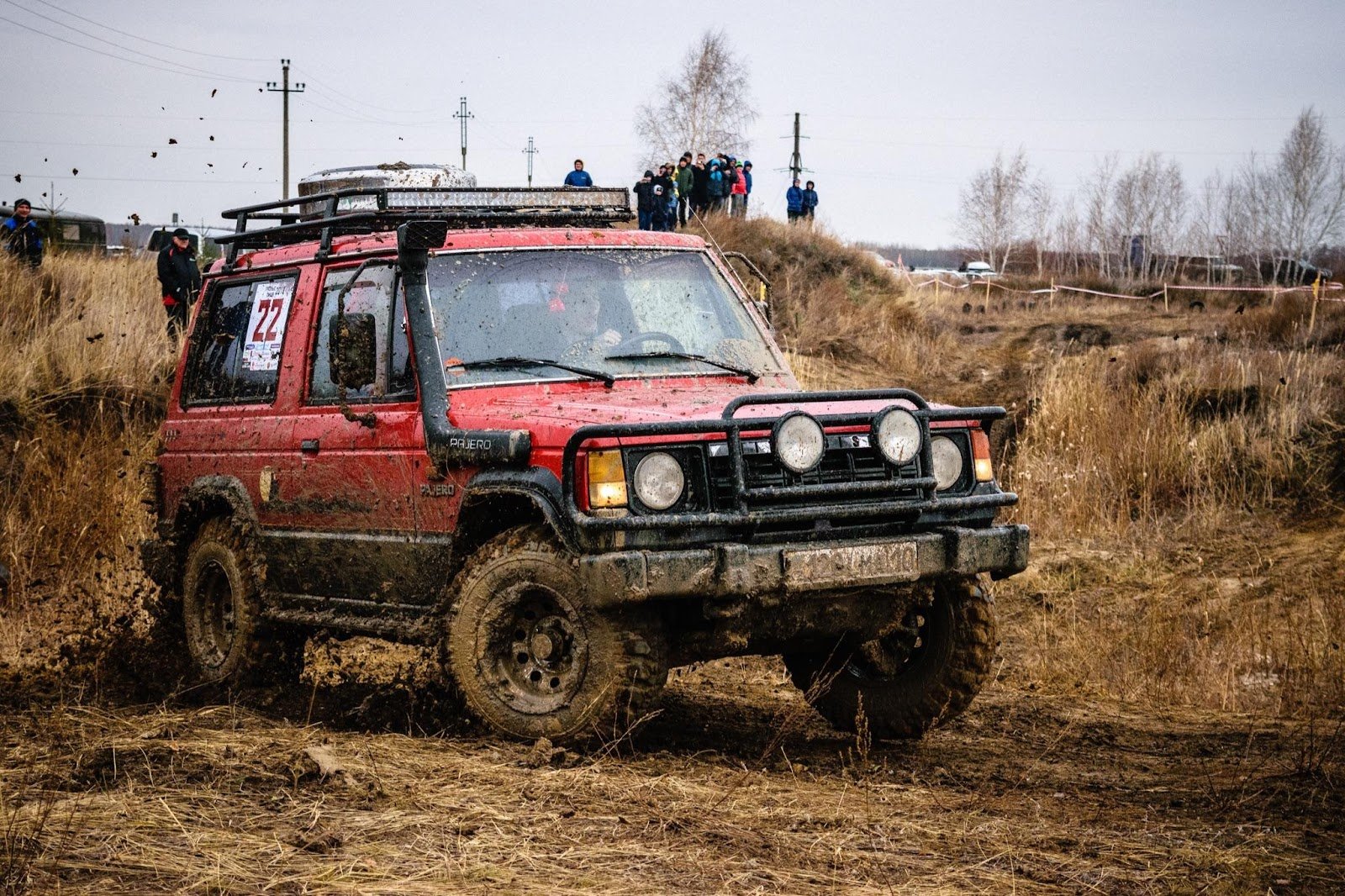 Audio description: a colored photo. A cloudy autumn day. A red four-by-four car with side air intake is driving along a bumpy field with yellow grass. Blobs of mud are flying from under its wheels. The car has a white rectangle sticker with red number 22 on it. Upon the hill in the back, people in colorful jackets are watching the race.
Artyom believes that every visually challenged person dreams to try to drive a car. An off-roader is basically an ordinary car: the same foot pedals, the steering wheel, the gear box. This type of driving is one of the ways to make one's dream come true, to feel that practically any goal is achievable. This motivates you to lead a bright life, not to stay at home, look for something new and unusual. However, in any case, safety first! One must do motorsports with experienced people who can train, consult, explain and help in a tight spot, the expert points out.
"Motorsports for the sightless started with off-road races. Sighted jeepers competed in passing the track, and one of the tasks was to drive a certain part of the road blindfolded. One day, a sightless person took part in these competitions.And he made the finish with the best result, if I'm not mistaken. The thing is that he simply learned to obey his steersman's commands most precisely, that is why he achieved better results compared to sighted racers who had been doing motorsports all their lives," Artyom explains.
Later on, sightless people began carting (racing on closed-off tracks), and now they are boldly getting behind the wheel of an off-roader.
"Such hobbies fill your life with stronger emotions. I am an active person by nature, that is why staying at home is very hard for me. This is an inherent trait of my personality. For me, off-road races mean overcoming myself, overcoming some life situations. I am feeding off this drive, enjoying the race and go on creating something in high spirits and with joy of life," Artyom says.
The Off-Road Racing Technique
As Vladimir Khudyakov explains, off-roaders are perfectly suited for blind off-road races. The cars available on the market today are intended for oilfield workers, geologists, hunters and anglers. Such vehicles are easy to steer, they do not require registration with the traffic police and have good stability. Off-roaders move at a speed of 10 kmph. You must drive them outside of public roads, meaning that you can't drive along a highway in it. Karakat, a makeshift off-roader, somewhat resembles a tractor with wide powerful wheels of about 140 cm in diameter. The driver steers such a vehicle using a steering wheel and 3 pedals. To make this vehicle manageable for a sightless person, the car must be somewhat adjusted. There must be one more seat inside for the steersperson, who becomes the eyes of the pilot.
"Unfortunately, we do not practice as often as we would like to. You see, there are no off-roaders for rent. Until we buy our own karakat, we have to make arrangements with the buyers of such vehicles. When an enterprise produces such a car, it has to be tested for three days before it is delivered to the customer. During this short period we sometimes get a chance to practice. Of course, not everyone will agree to give their car to a sightless driver for a test. But if this happens, the off-roader goes to the field," says Vladimir.
Off-roaders may be used not only for motorsports, but in search operations, for example.
"Here, in Leningrad Region, we have a non-profit rescue organization called LizaAlert which searches for people lost in forests and swamps. Many times they came to us for the off-roaders, because such vehicles are essential for them. That is why we are planning to lend our own vehicle to those who need it. Bringing value to the society is an important goal for each of us," Vladimir explains.
The Nuances Of Practice Sessions
There is no need in specially equipped zones for practicing. One can perfect one's karakat driving skills in any field. One can even rent a future construction site for a while. Any area with bumps, pits, bushes, water bodies, swamps and other obstacles will do.
"At first, we tested everything ourselves. We chose a suitable field, and I invited my sightless and visually challenged friends there. We used ordinary off-roaders to test out the safety system, then developed the rules for the races, thought through the necessary adjustments in the vehicles construction and so on. For example, a pilot shall be male or female, age 12+, 120+ cm tall. Of course, the obligatory condition is fastened seatbelt. A steersperson shall be a person with no mental deviations, with good articulation, hearing and eyesight," says Vladimir Khudyakov.
A person with impaired locomotor system may also become a steersperson. "This idea came to me not so long ago, and I think it has a right to exist," Mr. Khudyakov adds.
The steersperson must sit beside the sightless pilot. It is quite like a sports rally: a pilot is sitting at the wheel, a steersperson is nearby, reading the map and informing the driver when to turn, at what degree, what kind of road lies ahead (gravel, sand, etc.).
"Being a steersperson for a sightless driver is not too complicated. Although one must evaluate the situation quite fast, determine the distance to the next turn or obstacle, because if you take your time calculating the degree of turn, and then the visually challenged pilot starts thinking how to do it, it will be too late for this maneuver. That is why I use simple words to define what the pilot needs to do: 'a little to the left', 'a little to the right', 'stop' if there is an obstacle ahead. Having sufficient experience of work in inclusive projects, I can imagine the capabilities of visually challenged people pretty well. I know that sightless people lead active lives, try new sports, do yachting and mountain climbing.So, when I heard about blind off-road races, I wasn't surprised at all," shares Svetlana Kulakova, a steersperson of the Way To Dream off-road project, co-director of No Limitations information portal, the president of the Inclusive Solutions autonomous non-commercial organization, curator of Marathon In The Dark project organized by Sport For Life charity foundation and the founder of the Inclusive Sail project.
Svetlana is a driver herself, so she got down to work quite business-like. First of all, she asked about technical features of the vehicle intended for the races. She found out about the stability of the car and the tilt degree at which it can turn over, its maximum speed and other details. Of course, Svetlana took the driver's seat and tested the off-roader herself.
"We drove across the swamp and puddles and learned that, provided there were no waves, the car would float thanks to the size of its wheels. Moreover, learning to drive an off-roader is not complicated. It is quite easy to control and even a person with no experience can easily learn it. I think that if Way To Dream project develops further, I will participate in it not only as a steersperson, but also as a driving instructor," she says.
Training To Drive
Previous driving experience is not necessary for a sightless person wishing to learn to drive an off-roader. Visually impaired pilots undergo instruction sessions. The duration of such sessions depends on individual peculiarities of the person and their previous driving experience. Of course, if the person used to drive prior to losing eyesight, learning will be easier. All of the parts of the vehicle are made in Russia, so the skills of using manual gearbox are quite desirable.
"The process of training the newcomers somewhat resembles traditional driving courses, but instead of learning the traffic regulations, sightless drivers get acquainted with karakat safety rules. The steersperson and instructor tells the sightless pilot about the parts of the vehicle and lets the driver-to-be study it thoroughly by feel. Then the sightless person is informed about the principles of gearbox and pedals functioning, and instructed on how to drive, turn and so on. Theoretical part goes hand in hand with practice sessions, which allows the future pilot to nail down the new skills pretty quickly," Vladimir Khudyakov says.
When a sightless pilot has learned to pull off and switch between gears smoothly, the two of them, the pilot and the steersman, drive out to a flat site with no obstacles to reinforce the newly acquired driving skill. The next stage is training to drive around obstacles at another site.
When the driving course is completed, the off-roader moves out into a field with natural obstacles: pits, ditches, bumps and hillocks, fallen trees.
The Present And The Future Of The Project
"The idea of off-road races was appreciated by many sightless persons. When we came to corresponding organizations asking for assistance, support and financing for the motorsports for the blind, they refused us. Turns out that, as there is no such sport for the blind in the world, then Russia has no need for it," says Vladimir Khudyakov.
At present, Way To Dream project awaits decision of the Ministry of Justice and hopes that sightless and visually challenged people will have the opportunity to do motorsports on official basis, and hold not just individual runs, but organize full-fledged off-road races. As soon as the necessary documents are obtained, a fundraiser will be launched to buy a karakat. Such vehicle costs about 800,000 rubles on the market.
"All my life I had this dream to take part in Paris-Dakar off-road races or Land Rover Camel Trophy expedition. This is a kind of extreme sport in the wild, driving through the jungle, with mosquitoes, animals all around, with camping and adventures. Regretfully, Camel Trophy doesn't exist anymore, but as for Dakar races, I never missed a live broadcast. I've always felt I lacked such an experience in my life, so now in my Way To Dream project I'm trying to make this dream come true, even if in some part. I want to make motorsports for the sightless acknowledged as an official sport at last. Within its framework sightless persons would be able to take part in Dakar races, competing with fellow visually challenged off-road racers from other countries," Vladimir Khudyakov shares.
Sightless pilots want to show, by their own example, that there are no limited capabilities, only limited ambitions. Blindness is a strong stimulus to develop one's leadership skills, determination and perseverance.