Audio description: a colored photo. An empty, brightly lit auditorium. The picture is taken from amidst the rows of soft red armchairs, and beyond them, one can see the stage hidden behind yellow curtain.
Larisa Ovtsynova, Special View's sightless columnist, tells about I'm Taking Myself To The Theater project aimed at enhancing theaters accessibility. Together with her colleagues she developed it within the framework of Act With No Barriers program, which was initiated by Moscow city branch of the All Russia Association of the Blind.
The way to the theater must be free of any barriers.
Some can wonder: really, what can bar a person from going to the theater? (If such a person has enough money and wishes to spend it on a ticket.) But sightless theater lovers understand the problem at once. Many know from their own experience how troublesome finding an accompanying person can be, in order to attend the very performance one wishes to see. All of us know how uneasy one feels having no freedom of choice. When you do not wish to go to a theater and so you stay home, it is one thing, but when you do wish to attend a performance but are unable to go, it is totally different. What if you wish to invite your beloved there, to give her or him a romantic surprise? What will you do with your accompanying person, who in such case becomes an odd man out? Thankfully, the world moves on and every day gives us new opportunities. The most important thing is to learn to accept them.
This story began in May, when we became students: we were welcomed by The School of Social Project Planning. The lectures took place in the Yu. M. Luzhkov Moscow City Government's Management University, and practical sessions were held in the N. Ostrovsky State Museum and Integration Cultural Center. We were studying under Act With No Barriers program initiated by Moscow city branch of the All Russia Association of the Blind. First of all, those attending the course were to split up into teams, each team having a specific idea to develop. Me and Gennadiy Kartsev already had a perfect idea to work on.
It grew to become the project entitled I'm Taking Myself To The Theater. The launch of this project became the result of our studies. We called our team Theater With No Obstacles. It included me, Gennady Kartsev, Anna Meshcheryakova, Darya Dorokhina and Pavel Ryzhov. Our project took the first place among the five created during our course.
I'm Taking Myself To The Theater project is aimed at enhancing Moscow theaters accessibility and thus enable visually challenged persons to attend performances unaided.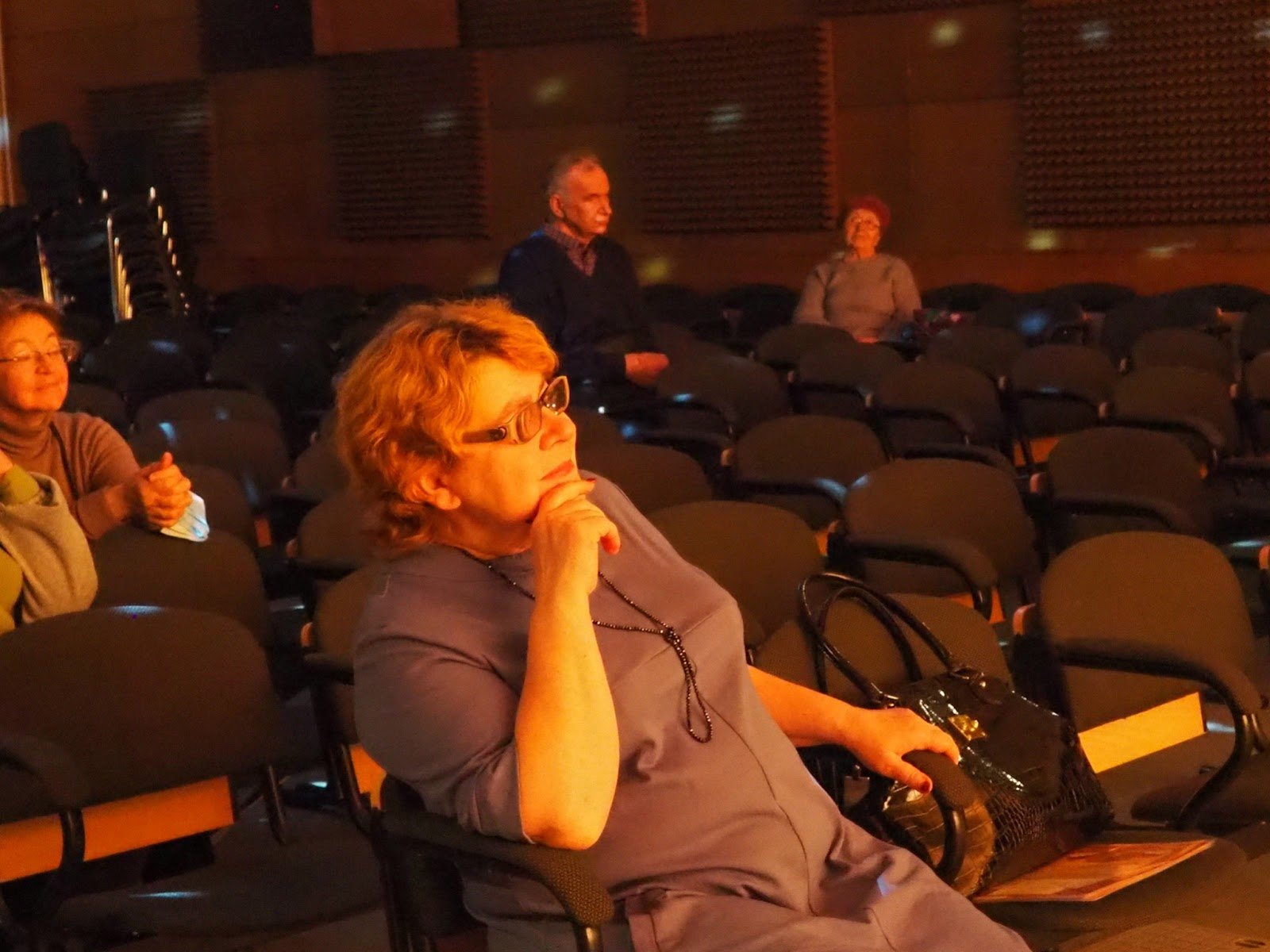 Audio description: a colored photo. A half-empty dimly lit auditorium. Colorful dots of light are dancing on the walls. Several middle-aged and senior people in casual clothes are sitting in dark chairs. They are watching the rehearsal with great interest. In the foreground, there is a short-haired woman with thick glasses. She is wearing a lavender jersey dress and a long matching necklace. The woman is touching her chin and looking at the stage with a smile.
So, what do we need to make a sightless or visually challenged person's way to the theater not a tiresome problem but a pleasant and exciting journey? Obviously, first of all, such persons need to get to the theater and find their way around once inside (take off their coats, go to the restroom and the cafeteria, find their seats in the auditorium). So we got down to creating the tools to help visually disabled persons do this on their own. Our partner in this project implementation was Mossovet State Academic Theater.
We had two ways to solve the tasks of getting to the theater and finding the way once inside it, but we wanted first to ask the opinion of the visually challenged. To do this, we organized a focus group. Its participants, watched by our volunteers, tried to find their way to the theater and reach the auditorium on their own. After this experiment, all of them exchanged opinions. It turned out that for some people it was easier to take in written or audio descriptions of the route. Other visually challenged persons found it easier to work with graphic maps and layouts.
Of course, we decided to enable visually disabled people to use both of these options. For those who are more comfortable with audio recordings or written texts, we prepared detailed descriptions of the way from the metro station to the theater and the description of the theater premises layout.
But we couldn't ignore the cultural and historic objects one passes by on the way to the Mossovet theater. That is why The Coincidence creative duet (meaning me and Gennadiy Kartsev) came up with a kind of a walking tour from the doors of the metro train to the entrance to the theater. We called our tour The Journey Along the Bolshaya Sadovaya St.It is based upon three principles: historic data about the surroundings, buildings and other objects, their audio descriptions, and the technical description of the route, not just to the theater but also around the neighboring territories, namely Triumfalnaya Square and The Aquarium Garden.
This walking tour is presented in two forms: audio description and written description. At the moment, it is available at Izi.travel tourist service. But we are planning to make it available on other web resources which are more commonly used by the visually disabled.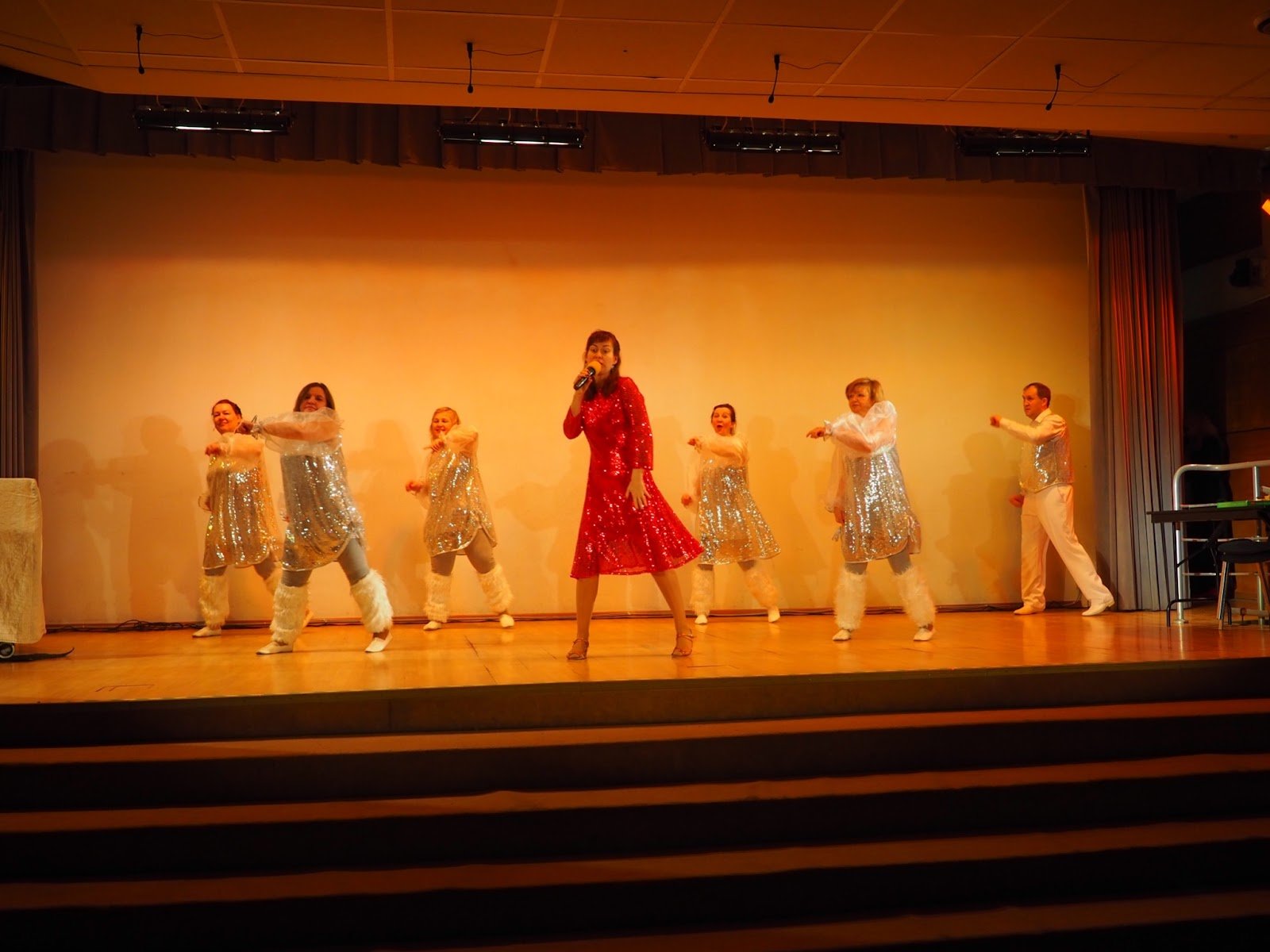 Audio description: a colored photo. A performance is in progress on a smallish brightly lit stage. A slim actress in a glittery red dress and golden sandals is singing into a microphone. Behind her, a man and five women in silvery-white stage outfits are dancing.
We tested each of our steps with the help of our energetic and highly enthusiastic focus group. Their feedback was much more than inspiration and support for us: they gave us timely observations which helped us make our products more accurate and easy to understand.
Theater With No Obstacles team also took care of those people who prefer using relief and graphic maps when finding their way around. We manufactured three albums, each consisting of 12 maps. They include the route from the metro station and nearby bus stops to the theater, the layouts of the surrounding territories, and floor plans of theater premises. Before studying the map, one should first peruse the legend written in Braille. In the lower corner of each map, there are three circular tactile marks. If you touch them with a special device called digital voice labeler, you can listen to the information represented on this map.
During our focus group sessions we learned that oftentimes people do not have enough skills to use relief maps effectively. In order to solve this problem, we held two special workshops. At first, the participants led by Anna Meshcheryakova studied maps and their legend, and then moved around the theater on their own, watched by volunteers.
What is more, we proudly presented a big 3D tactile copy of the Mossovet theater auditorium. It shows the seats layout and inner structures of this four-leveled space.
The tactile model attracted attention of many guests with no visual impairments. The audio tour, likewise, became quite popular. The common opinion was expressed by our long-time volunteer Yekaterina Barkhatova, student of Russian State Tourism and Service University: "The tactile model of the auditorium, as well as the audio tour, are doubtlessly of great use and interest for sighted persons, too, adults and children alike".
I'm Taking Myself To The Theater project focused not just on visually disabled persons, but on theater staff as well. We organized a workshop for them, to tell them about the principal rules of providing services to visually impaired guests. Staff's following these rules will make a visit to the theater (or any other cultural venue) more comfortable for a visually challenged person. Moreover, we touched upon the issue of visually disabled persons attending a performance accompanied by a guide dog. With this we were helped a lot by Svetlana Telitsyna, co-director of Wise Dog club for Moscow and Moscow region's guide dog owners. Darya Dorokhina and Pavel Ryzhov created a video tutorial where they presented the recommendations helping to provide services to visually impaired people correctly and tactfully, which, on top of everything, will save theater staff uneasiness and uncertainty. These are general-purpose recommendations, so the tutorial may be used as a guide for other cultural institutions.
During our last focus group session, our tactile model attracted quite a number of viewers. All of them were sincerely interested in the installation and animatedly talked to our sightless team.
Within this project, we held two major public events. One of them was the round table discussion dedicated to the accessibility issues of Moscow's cultural institutions as regards unaided visits by the visually challenged. During this event, a colossal amount of experience was shared by the project participants and theater and museum employees.
We celebrated the completion of I'm Taking Myself To The Theater project with a concert and a journey for our sightless theater lovers group. Enthusiasts of the project took part in this event: Anna Gorokh, Alyona Zirko, Premier Show Group and Yulia Dyakova. The audience was quite supportive, too.
The project's work is done, but we hope this is just the beginning. We hope that our experience and tools will enable visually impaired persons to take themselves to various cultural venues, not just in Moscow, but in other Russian regions.