Audio description: a coloured photo. A spacious sunlit vestibule with elevators. A man in a business suit is standing in front of an elegant aged woman wearing dark glasses and holding a cane.
Discrimination is one of the most pressing issues of the society today. Disabled people become victims of discrimination especially frequently. In many countries there exist institutions that protect the rights and guard the interests of this category of persons. In Belarus, for example, there are Belarus Association of the Visually Disabled, Belarus Society of the Disabled and Belarus Society of the Deaf — they are analogous to the Russian institutions of All Russia Association of the Blind, All Russia Society of the Disabled and All Russia Society of the Deaf. And in addition to these, Belarus has the Office for the Rights of Persons with Disabilities. Its employees consult people with disabilities on their rights and ways to exercise them, create various services, do educational work and give expert opinions. Sergey Drozdovskiy, co-founder and head of the institution, tells our portal about the activities of the Office.
How It All Started
The idea of the project came to Sergey and his colleagues in 2008. He says that then they were concerned about the fact that non-governmental associations of people with disabilities in Belatus merely declared to protect the rights of their members, but actually did very little to deal with the issue. At the same time, persons with disabilities regularly became objects of discrimination in different spheres, that is why legal services were in high demand. Now the Office is known not only to local governmental agencies, but also to ministries, specialized universities, non-profit organizations and the media.
"The rights of persons with disabilities in our country still remain a sensitive issue that is very little discussed by the government that is why the number of problems is still growing day by day. Regrettably, our civil society is still quite compressed, and it clearly lacks a mediator to communicate with the authorities. This was the very role that our organization took upon itself. It was founded in 2009 much aided by the fact that our republic joined the International Convention on the Rights of Persons with Disabilities. While establishing our Office we were guided by the successful experience of the West, where the defending of human rights mostly takes place at the level of associations without any interference from higher levels of hierarchy (contrary to what is often happening in post-Soviet countries where no one takes notice of you before you reach some authority)," says Sergey.
According to Mr. Drozdovskiy, their Office "acts as an expert, not as a representative": "We believe that the opinion of people with disabilities must be expressed through their democratic organizations. We on our part are ready to fully support this by analyzing their rights through the prism of disability and in the context of discrimination".
In addition to free consulting services, the Office for the Rights of Persons with Disabilities regularly organizes lectures, seminars, training sessions and round tables, takes part in conferences, publishes specialized editions, keeps a YouTube channel, and submits proposals to perfect the national law. Thus, Office employees became co-authors of theInternational Convention on the Rights of Persons with Disabilities translation into Belarusian, and also adapted Disability Etiquettewhich was originally developed in the USA.Furthermore, Office employees are often called for collaboration by other non-profit organizations, to serve as experts, and Belarusian human right advocates often recommend citizens to address specialists of the Office for consultation.
"At first, there were just the three of us: a well-known Belarusian human rights activist Yelena Tonkachyova, a wonderful lawyer Enira Bronitskaya, and me. During the year that followed our Office grew to 8 persons, they were receptionists, managers and administrators, that is minimum staff that allowed us to extend our activities in all directions and keep inside organizational limits. Since then our staff has changed many times, but about half of it was always represented by people with some form of disability. Today, our Office doesn't have permanent staff, but we have a rather extensive team of experts, whom we engage in solving various issues, so it is hard to tell exactly how many of us there are. Over a thousand applications are sent to our reception desk annually. In most cases it is enough to advise a person on exact phrasing of the law, on how to behave in certain situations, where to address, maybe even share some positive experience, and next the person acts on his or her own, but in some cases we have to work for several years, and regrettably, the result is not always positive", tells Mr. Drozdovskiy.
The Accessibility Issue
Audio description: a coloured photo. Seen from above, two young women are sitting at a cafe table with a laptop in front of them. One of them is in a wheelchair; she is smiling and looking at her fellow.
Office employees have set a goal to make an environment not just free of barriers, but accessible in every sense. Accessibility is the most important condition for realization of all the rights of persons with disabilities.
"Without solving the accessibility issue it would be strange to talk about observance or violation of rights of the disabled in labour, education, health care or other spheres. Most frequently we face the situations when local authorities refuse to fulfill their obligations of organizing an accessible environment inside or around houses, in other cases the problem concerns the accessibility of roads and public institutions. As a rule, such issues are solved through the administration. Sometimes it is not about the authorities' wickedness, but about lack of competence and knowledge of their personnel at local level. In many cases it suffices to explain their errors, and they instantly meet the request in question. In other cases we may disagree, our requests and suggestions are simply left unheard. Then, with the support of the disabled people, we repeat the request, and sometimes it works. We do not make any provocations, we always try to hold a reserved and well-founded position, but if we are not taken seriously, we have no choice but to engage the media and give the issue wide coverage", Mr. Drozdovskiy adds.
In 2015, in Belarus a driver employed by one of international travel companies made a sightless passenger get off the bus, on the grounds that he had no right to travel unaccompanied. The disabled young man had purchased his ticket in person in the company office, so the manager knew who she had been selling it to. Note that the young man had used this company's services previously. Thanks to the intermediation of the Office for the Rights of Persons with Disabilities, Prosecutor General's Office for the first time admitted this fact to be a case of discrimination and put travel suppliers under the obligation to prevent such situations in the future. The driver was fired, and the young disabled person was offered apologies, and a ticket for the next bus trip.
"In contrast to other legal aid agencies, we work only with those requests where health impairments of a person definitely become a grounds for discrimination, or a barrier. In cases when disability does not play any role, all we can do is offer other sources of legal assistance. In Belarusian court, only lawyers who hold a fully pro-governmental position have the right to defend interests of physical persons. We do not have legal license for that, and we cannot obtain it because those who don't fit into formal authorities' views, even having obtained the license lose it rather quickly. Basically, we are simply giving persons with disabilities the information they need: help them understand what rights they have, what actual violation is, we direct them to lawyers for consultation and in every legal way assist them in defending their interests. For example, we receive many collective and personal complaints from employees of so-called training and production enterprises about insufficient labour remuneration, but we cannot make employers raise their salaries, because this is not about human rights, and so, alas, we are powerless here", Mr. Drozdovskiy says.
Hush, or You'll Be Fired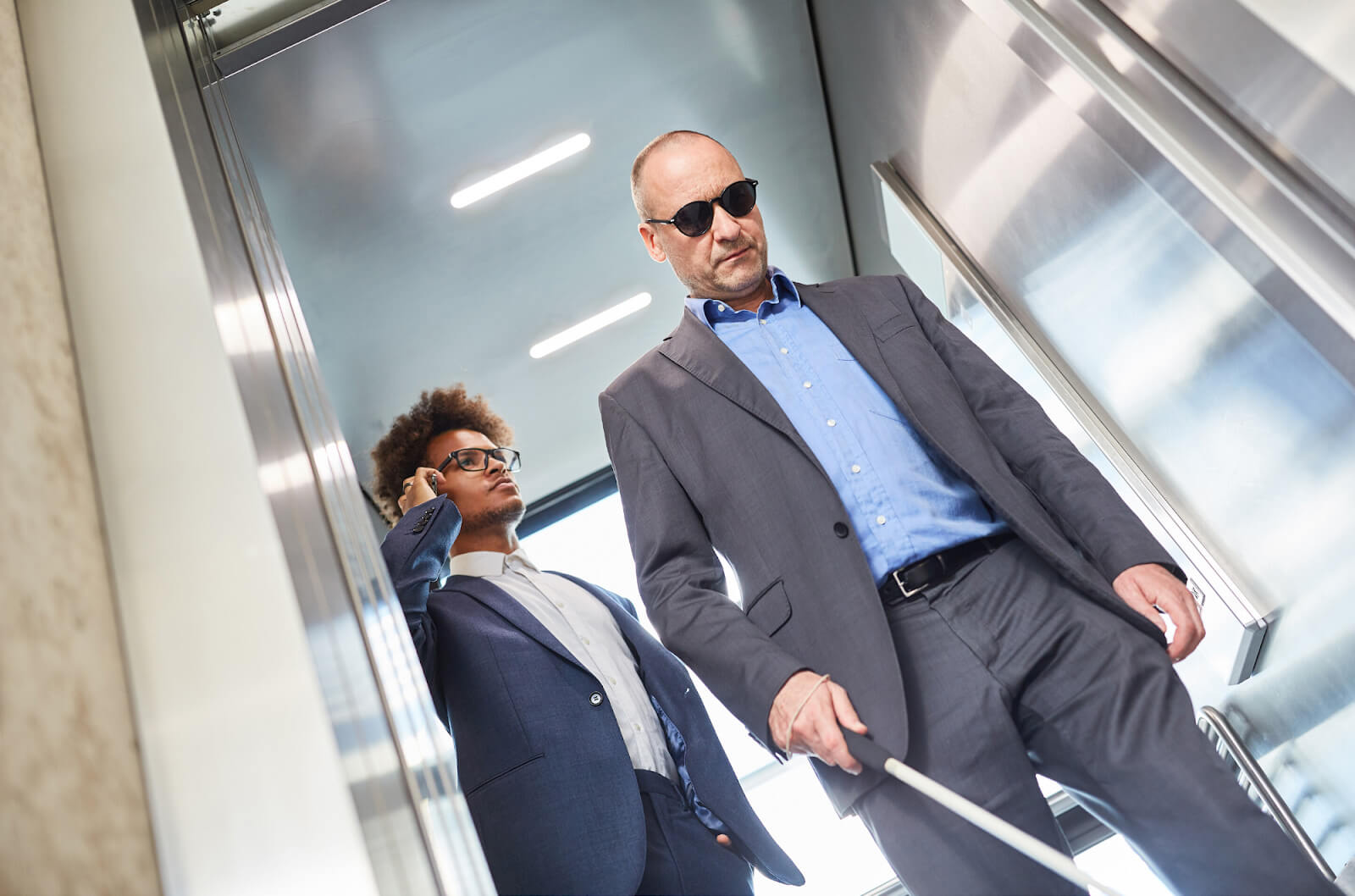 Audio description: a coloured photo. Two men in an open elevator viewed from below. Both are wearing business suits. One of them, holding a white cane and dark eyeglasses, is leaving the elevator, another one, who is staying inside, is talking on the telephone.
According to Mr. Drozdovskiy, visually impaired persons seldom complain about their employers. Most likely it means that there are not so many sightless and partially sighted people at an open job market yet.
"In our country, we still have functioning training and production enterprises with workplaces created for disabled specialists. It is not an optimum solution, but it is impossible to close them, because there is no real alternative to replace them. In Soviet times, a more or less inclusive environment was artificially created around those enterprises, but it is pretty obvious that such type of industry lost its competitiveness long ago, and hence it needs governmental support. The truth is that in Belarus there is no such thing as specialized labour and no special benefits for such enterprises. As a result, we are witnessing deep stagnation here. Many training and production enterprises today are unable to provide new orders for their employees, and at the same time losing such job for a disabled person means losing all social benefits connected with it, losing a room in a specially equipped company dormitory in a convenient neighborhood with established infrastructure, losing hobby groups and social activities. But if young people are still able to get new jobs in other economy sectors, persons who have lost their eyesight in middle age may find it very difficult to readjust and enter the IT world, and for some it is absolutely impossible due to their personality type. What is the solution? Is it better to do a pointless and, most likely, unwanted work for a ridiculous pay, or lose the job and face the problem on one's own?" Mr. Drozdovskiy asks.
Most of the employed members of Belarus Association of the Visually Disabled (BelTIZ) are massage therapists. During the pandemic, the administration of hospitals and clinics pressed sightless employees at first to take a paid leave and then days-off without compensation, although according to the law in such situation they have the right for two thirds of their salary. Some got hints that they might be subject to redundancy dismissal, which caused panic among employees. When the Office for the Rights of Persons with Disabilities received several such complaints, we got down to work.
"The main problem is that all these specialists are hired under contracts that in case of their disobedience simply won't be prolonged. Using their dependent position, employers put forward their own conditions, and the employees with disabilities, naturally, obey them for the fear of losing their jobs. In this situation employers seem to be not exploiters but fellow victims of the pandemic: businesses closing down, losses leaving no money to pay salaries with. Although on their part, it would be better to talk frankly to people, and not act against the law. Moreover, one can easily understand those disabled persons who meekly keep their mouths shut and never even try to fight for their rights, because they don't want to lose their jobs, but on the other hand, the enterprise may go bankrupt anyway during the lockdown, and so it will vanish at all whether the staff keeps silent or not", Mr. Drozdovskiy adds.
Disability Is No Vice
In education, the situation is equally complicated. In order to get into college, one needs to obtain a recommendation of a medical rehabilitation expert board (MREB). To do this, persons with disabilities need to prove that they will be able to work in their chosen profession after graduation. The decision is made based on subjective opinions of the MREB medics.
"I personally witnessed an interview when a person who wished to become a lawyer was asked how he would chase debtors across a many-storied building. Such narrow-minded approach may strip a person with disabilities of any wish to study further. Moreover, colleges themselves are not always ready to educate special students. Once our lawyer assisted a sightless young man who wished to enroll into college, because said college intentionally created conditions to make it impossible for the young man to do it by himself. And the excuses were absolutely primitive: we need to find this out, wait a little, we will see what we can do... And it went on and on, all day long. Often conflicts arise with child protection services which, having decided that disability leaves no chances for a person to become a decent parent, transfer the children to other families. Clearly, there is no legal reason for that. It is a crazy habit that formed in Belarusian practice. We managed to defend several such cases, but even after the ruling of the court child protection services refused to follow it, postponed the child's return to the family as long as possible. And literally the next day they came to that family with another inspection. Meaning that instead of trying to assess the actual capability of people to fulfill their duties of raising a child, the authorities just show unmotivated aggression, and blindness may become one of triggers for that", Mr. Drozdovskiy explains.
Some visually disabled persons are convinced that their child will be taken away in any case, so they deliberately choose to stay childless. Sergey Drozdovskiy believes that this is a wrong position. "Very often we face biased approach on the part of the authorities: simply put, they place the blame with sightless people for their 'non-compliance' with some subjective standards of proper way of living. For instance, their home is not tidy, but who says that? Who and where set these standards of tidiness in writing? Or, for example, the absence of a decent job (from the point of view of monitoring authorities) can also be a criterion of a person's unfitness for raising a child. On the whole, health impairments are not a barrier to raising children. When it comes to child custody and adopting, the situation is more complicated. Sightless and visually impaired persons as of now have not sent us complaints about child protection services' refusals to allow adoption, but we know that such persons requested them thereof and were told at once not even to try. That is why they aren't even trying and go on living with their fears. Pretty often we receive submissions concerning deprivation of legal capacity. We always warn people about the consequences of such grave steps. As a rule, they do not know that bringing legal capacity back according to our laws is virtually impossible. For many persons it becomes a revelation, after which they either give the fighting up, or start treating it more consciously", Mr. Drozdovskiy adds.
Despite the complicated economic and epidemiological situation, in the near future the Office for the Rights of Persons with Disabilities plans to conduct several big-scale legal researches and continue work on promoting anti-discrimination legislation and introducing innovative legal practices. As of now, the Office staff is not only working on the possibility of opening regional offices but is negotiating about international collaboration, including on sharing its experience with the Russian Federation and the Republic of Moldova.
Contact the Office for the Rights of Persons with Disabilities either by visiting it in person or by calling its hotline number +375 (17) 355-08-29. One may also submit a request via email, by filling in a blank at the Office's website or its Facebook page.